Consulting Services
Business Intelligence (BI)
Business Intelligence (BI) is generally regarded as the process of gathering information about a business or industry, then implementing a broad range of applications and technologies for gathering, storing, analyzing, and ultimately providing access to data to help make appropriate business decisions.
Our consultants are uniquely equipped to provide BI expertise. We can provide expertise in many Business Intelligence services including Discovery & Planning, Workshops, Assessment Services, Roadmap Services, Design, Solution Architecture, Vendor Selection and all facets of Implementation.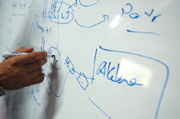 Integration Services
Integration of data between applications from a variety of different vendors can be an enormous challenge. Ongoing versioning and maintenance updates of each vendor's application software often impacts continuity causing interfaces and data feeds that were once fully working, to fail. We have been keenly aware of and experienced in solving these kinds of challenges for many years.
Regardless of what types of applications you are integrating with, we can design and build integration components that you need, and subsequently maintain them to ensure they remain synchronized.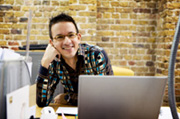 Software Development
Many of our consultants and partners have spent long careers in software development.
They conceived and produced numerous Enterprise wide software packages and solutions on a wide variety of platforms and technologies both past and present. These covered all the major areas of Higher Education from Student Systems, Billing, Human Resources and Accounting to Alumni Development. Tenures at such well respected companies as Information Associates, Ellucian, Wolffpack and others means we are very capable of filling virtually any software development need that you may have.
Project Support
Our consultants and partners can play a multitude of roles in any of your projects. We are able to provide support in specific areas including temporary staff backfill, right through project lead or management. We can augment any project with appropriately qualified staff, filling any void whether it is in the areas of technical specialization, requirements gathering, functional design, technical specification, build, testing, documentation, end user training and so on. You will find that engaging our staff in your projects will be worth the investment, adding significantly to the success of the project.
Vendor Selection
During our tenure at previous Higher Education Software firms, responding to RFPs was part of our business. At Instamation, we are well qualified to assist you in preparing RFPs to vendors in whom you may have an interest. It is a vital activity that must be completed both with diligence and understanding, as this process is one of the rare occasions when you can formally ask and subsequently receive answers to the most important issues regarding their products and how they might fit within your institution and to what degree. Asking the right questions in the right manner to force unambiguous responses is key, and we can ensure that this is done appropriately. Whether you engage us to prepare the entire RFP, or just review one that you have prepared, we can make sure the product you end up with fits your requirements. Although we do maintain affiliations with certain software vendors, these represent only a small number of possible choices for the right vendor for you and guarantee impartiality when working on your behalf.
Training
We can prepare and give training to your institution on a custom basis. We typically give training according to your needs and don't carry a catalog of regularly scheduled classes. Training sessions can be in-house and cover a multitude of subjects but are more likely to be in conjunction with other services we are providing. These training sessions would likely include end-user training, application operation, performance tuning and best practices and processes. In addition to in-house delivery, it is also possible to supply training remotely in the form of a webinar which tends to be more dynamic in its structure and move cost effective. We would be happy to discuss any training needs you may have.
Debt Management Software Solution
Campus Receivables Collector (CRC), a stand-alone, comprehensive, web-based software system is flexible enough to manage any loan or debt type (i.e. Federal Perkins, Health Professions, Nursing, Institutional Delinquent Receivables, etc.).
Training and Consulting
Our team has extensive experience with
Ellucian
(Formerly SunGard Higher Education) Loan Management products, the student receivable industry, and training techniques to offer you:
Comprehensive and Effective training Materials
Valuable insights and best practices
Individual attention to all participants
Training Solutions
Application Training
Technical Training
Consulting
Services Solutions
Upgrades
Patches
Consulting
Delivery Venues and Formats
Onsite at your institution
Online via the internet
Formal curriculum-based training with hands-on exercises
Consultative one-on-one training covering a pre-determined agenda
Office hours training covering specific topics that you request